Similar to Flojet Bottled Water Dispensing System Plus 220V EU Plug
PRODUCT DESCRIPTION
The new and improved STARFLO BW2020A Dual Inlet Bottled Water Dispensing System Plus is part of Starflo's premium water dispensing product line. Connect a water bottle to the system, and fresh water is available for use with coffee/tea machines, water dispensers, refrigerators, ice makers, or any other application where portable potable water is needed. The BW2020A Dual Bottled Water PLUS system is also convenient. The pump shuts off when the water source is depleted, and when water is restored, the pump will automatically restart. This eliminates the chance of any damage due to the appliance running dry.

Features:
Dual suction wand assembly to pull from two bottles simultaneously
Noise dampening rubber feet for quiet operation
Illuminated on/off switch
Universal cap fits most water bottles
Suction wand contains a float switch to turn the pump off when bottle is empty
Wand also has a built in check valve to prevent water from flow back into the bottle
48" suction wand hose
Includes 20' of 1/4" OD tubing
3.5' power cord (230V/50Hz)
APPLICATIONS
Bottled water dispensing; refrigerator ice maker; coffee brewer, espresso coffee cart and drinking water faucet water
STARFLO Bottled Water Dispenser Dispensing Pump BW1000A in Business Industrial , Restaurant Catering , Bar Beverage Equipment , Water Filtration.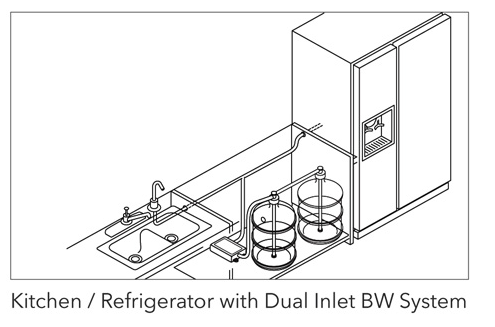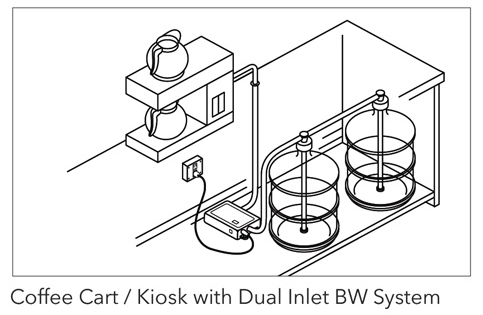 SPECIFICATION
Model:BW2020A
Voltage:110V-230V AC
Flow rate: 3.8 L/Min
Amps:0.5A(0.25A)
Maximum Flow:3.81LPM
Maximum Pressure:40PSI
FEATURES
1.using AC motor pump
2.Float switch for auto shut-off when bottle is empty
3.Built-in check valve to prevent back flow
4.Universal seal cap fits most water containers
5.Includes 6m discharge hose
TECHNICAL DATA

IMAGE GALLERY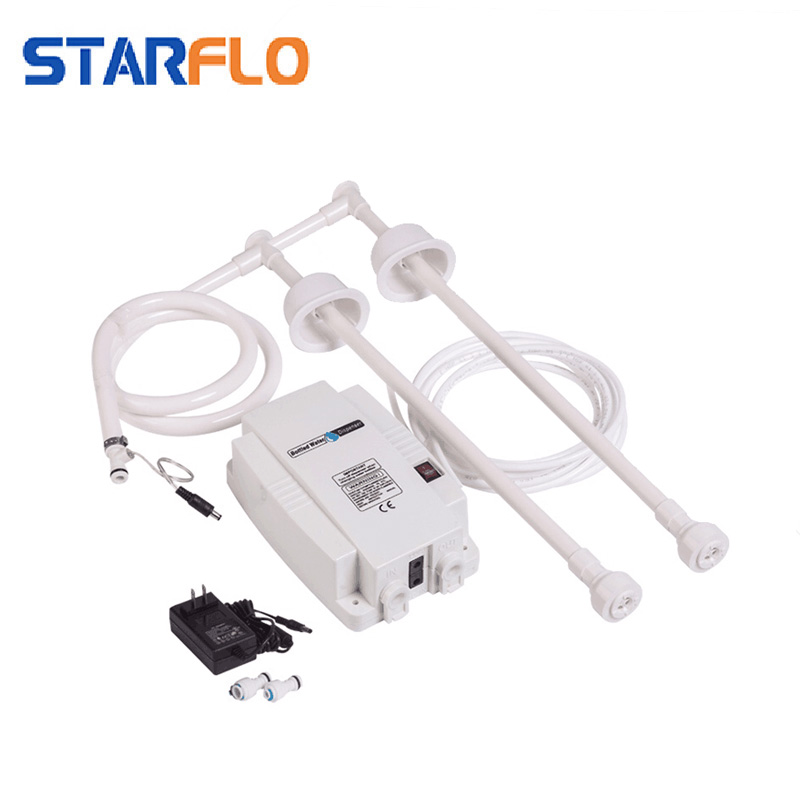 Want to learn more ?
Bottled water dispensers pump purified water from a 5-gallon water bottle directly to applications like drinking water faucets, refrigerators, coffee makers, and ice makers.
A bottled water dispenser uses a diaphragm pump to send water where you need it when no water line is available. T
his diaphragm pump uses compressed air to propel the water from one chamber to a faucet while another chamber fills.

What's included:

• 20 ft. ¼ in. O.D. polyethylene tubing
• Compression nut and sleeve
• Module that automatically fills or dispenses
• Suction wand with hose that transports the water
• Wall power adapter that powers the pump
• Built-in backflow prevention so water doesn't flow back into the water bottle
• Automatic shut-off during high temperatures
How does a bottled water dispenser work?

After initial installation, turn on the pump and fill a 2 ½ gallon container for 30 seconds to purge the air from the pump.
The suction wand is inserted into a 3, 5, or 6-gallon water jug, which activates a float switch at the end of the wand and turns on the pump.
The module automatically dispenses water from the jug into your tap or refrigerator.
The float switch shuts off the pump whenever the jug is empty.
Make sure you sanitize your system with a household bleach solution 6 times per year. Do not run the system through the dishwasher.