12V DC WATER PUMP DISPENSER 5 GALLON
PRODUCT DESCRIPTION
Genuine STARFLO bottled water system is ideal where portability is key.
BW3000A 12V DC Pump recipe-quality water from commercial bottles to ensure better-tasting hot and cold beverages. The Bottled Water System is designed to work with coffee/tea makers, refrigerator ice and water dispensers, espresso carts and portable sinks or any use requiring portable potable water.The Bottled Water System is also designed for convenience.The pump automatically shuts off when the water source is depleted and restarts when water is restored. Its compact size supports easy mounting.
BW3000A designed to pump water from commercially available 3, 5, or 6 gallon water bottles. The system delivers the bottled water under pressure to a sink mounted drinking water faucet, or to the water inlet of a refrigerator, icemaker, coffee brewer, or Jupiter Water Ionizer.
The suction wand, when inserted into the water bottle, activates the float switch on the pump. This float switch also shuts off the system when the bottle is empty. The wand has a built in back-flow valve to prevent water from flowing back into the bottle.
It comes with 1/4" outer diameter tubing, and the fittings to connect it to the refrigerator ice maker line on the back of a refrigerator.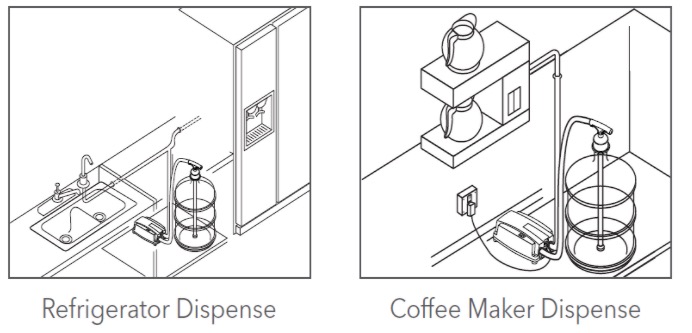 FEATURES
Illuminated On/Off Switch Provides clear visibility in dark cabinets or hard to reach places

Long Life Motor Ensures years of reliable operation.

STARFLO Diaphragm Pump Provides dependable run dry capabilities, extending the life of the pump.

Quick Disconnect Ports Allows for easy wand replacement in seconds.

Quiet Operation Equipped with noise dampening rubber feet to minimize noise pollution.

Thermal Protection Prevents overheating, protecting the pump and control box from damage.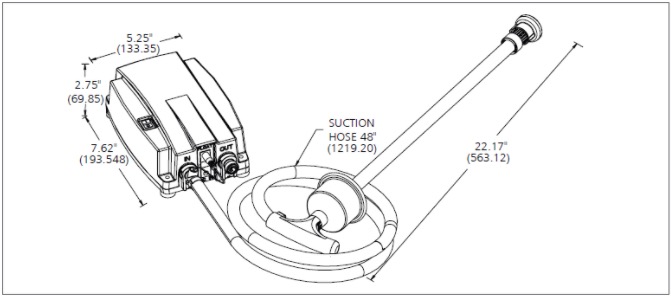 TECHNICAL DATA
Model: BW3000A
Voltage: 12 VDC
Current: 3.0 Max
Maximum Flow:1.0GPM(3.8LPM)
Maximun Pressure:40PSI
PACKAGE CONTENTS
Main Module with On/Off rocker swich

Sucton Wand and 4.0 Foot Hose Assembly

20 Feet of 1/4" Discharge Tube

Wall Power Transformer

Kit Fitting - Compression Nut and Sleeve

Instruction Manual
IMAGE GALLERY