24V DC SUBMERSIBLE PUMP WITH SOLAR PANEL WATER PUMP SYSTEM
PRODUCT DESCRIPTION
STARFLO SF2440-30 solar water pumps enable you to move water from its remote source to where you need it, without access to power lines. Solar pumping has three primary uses; domestic use for washing, cooking and drinking, livestock watering, and irrigation. The same basics are used for all three requirements, although domestic use may require additional capabilities.
SF2440-30 submersible solar water pumps are different from regular AC powered pumps in more ways than the simple fact that they use DC power instead of AC. Most solar pumps are designed to be used in off-grid situations, and are designed to be extremely efficient. By not experiencing losses when going from DC to AC and back to DC, you can maximize your pumping while minimizing your power use. The most efficient way to use a solar pump is PV-direct, powering the pump directly off the solar panel, without using batteries. Rather than experiencing losses through storing power in batteries, the water itself is stored in a cistern or tank to be used when needed. It's much easier to store water than power. The difference between a cistern and a tank is a cistern has a removable lid, and a tank is generally sealed.
This Solar Water Well Pumping system can pump 1.36 gallons per minute at max of 230', lower head distances will increase flow rate (see table below)
The System includes the STARFLO Submersible Pump, STARFLO pump controller, 2 x 80w 12v solar panels and a DPW top of pole mount.
FEATURES
Long -life 12-24 VDC operation

For 4" wells or larger

Lifts water from wells up to 230' deep

Can pump up to 111 gallons per hour

Quick disconnect with "Watertite-Gland" Design Pat Pend

Corrosion-proof housing with stainless-steel fasteners

Runs dry without damage

50 mesh stainless steel inlet screen to keep debris out

Motor is sealed for long life and durability

State of the art solid diaphragm
TECHNICAL SPECIFICATIONS
Model Number: SF2440-30

Pump Design: Positive Displacement 3 Chamber

Diaphragm Pump

Motor: Permanent Magnet, Thermally Protected

Voltage: 24 VDC Nominal

AMPS: 4.0 Maximum

Internal Bypass: 105-110 PSI Max. (7.2-7.5 BARS)

Maximum Lift: 230 Feet Maximum (70 Meters)

Maximum Submersion: 100 Feet Maximum (30 Meters)

Outlet Port: 1/2" (12.7mm) Barbed Fitting

Inlet: 50 Mesh Stainless Steel Screen

Materials: High Strength Engineered Plastics

Stainless Steel Fasteners

Typical Applications: Potable Water Well Pump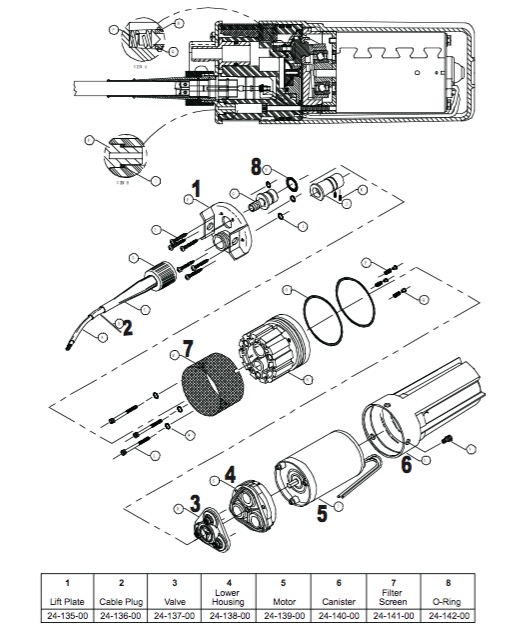 The submersible pump is the solution to your remote water pumping needs. This pump is rugged, durable and built to last. Its unique water-tight power connector stops water wicking and prevents potential condensation problems. Great for livestock watering, irrigation, pond areation, remote homes and cabins - any place where potable water is needed.
NOTE:
Do not use this pump for petrol gasoline, petroleum products, solvents, thinners or any other flammable liquid with a flash point below 82 C (180 F). Not for use where flammable vapors are present.