STARFLO FLO-2202 12V DC 3.8LPM Diaphragm Pump Suppliers
PRODUCT DESCRIPTION
FLO Series Industrial Pumps are designed for a wide range of application and are constructed from a selection of material suitable for handling a broad range of chemicals.The FLO Series of diaphragm pumps are self-priming and can be run constinously for short periods of time. The higher the duty cycle the shorter the expected life of the pump.
Typical pump uses are liquid transfer,spraying, circulation, filtration and dispensing.

DESCRIPTION
1.Switch cover screws 2.Pump head screw 3.Pump head
4. Motor 5.Lead Wires 6.Pressure
Operation
To start and prime the pump, the discharge line must be open allowing trapped air to escape thus avoiding the potential of airlock.The pressure switch will shut off the pump qutomatically when the discharge valve is closed the pressure has risen to the switch OFF set point.The pressure switch will restart the pump of the pressure switch.
Demand Operation(intermittent duty)
Demand Operation is considered and "intermittent duty" application.The maximum intermittent duty cycle is that switch will cause the motor to reach its maximum themal limits.Once the maximum themal limit is reached, the motor must be allowed to settle to a lower temperature ideally being ambient before resuming operation.Running the pump
at or near the maximum thermal limited for extended period of time will shorten the life of the pump and may result in immediate pump failure.
Bypass Operation(if equipped)
Models equipped with an external bypass system are designed to pump at high pressure while at low or high flow rates.Models equipped with a bypass only will continue to run until the power is manually turned off.
The FLO pumps are not recommended for continous duty service due to limited motor brush life.Operation at lower pressure and temperatures.However, will extend overall pump service life.
Mounting
The FLO Series pumps are self-priming.Vertical prime ay vary depending on the fluid viscosity, suction tube size, foot valve and pump configuration.The pump should be mounted in a dry and adequately ventilate area.If mounted within an enclosure,provisions to coor the motor may be necessary.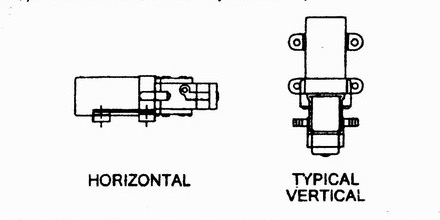 Preventative Maintenance Tips
If pumping a liquid other than water the pump should be flushed with water(if applicable) after each use.
Before freezing conditions occur, the pump must be liquid free or winterize with proper anti-freezing chemicals.
Dimensional Drawing of mini water pump

TECHNICAL DATA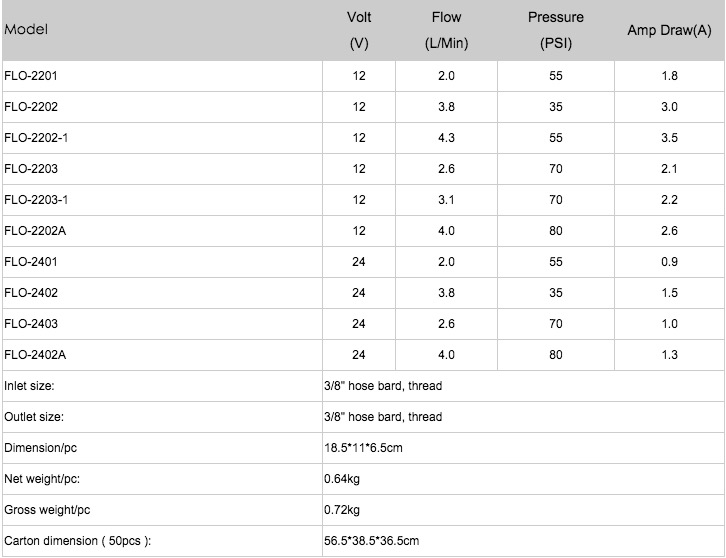 Sample order is very welcome to have a test, if need more technical specification, pls send email to us !