RV On Demand Water Pump 12v Water Pump Marine
PUMP DESCRIPTION
Perfect for caravans, boats, motorbikes, trucks and camping. Use it with fresh or salt water with your deck wash
or to run your toilet or shower. These pumps automatically turn themselves on and off when you turn the tap on and off.
Comes with filter and fittings. hese pump are for intermittent use only.
A great pump for those country folk, with a small family, on tank water who only need to boost the pressure from a tank next to the house.
We have tested these pumps and found they will operate to a 2 metre suction lift and 5 metre head with no problems.
Light weight and made from corrosion resistant materials which are suitable for fresh water, sea water, salt water, bilge water, beverage and chemical transfer.
Build in Pressure Switch (monitors system pressure and flow and turns pump on and off automatically.

When taps are either opened or closed, it adjusts the flow rate and pressure, keeping these constant.)
APPLICATION OF 12 Volt DC Pump
Agriculture/Yacht / RV/Caravan pressurized water system

Sprayer fixture (Vehicle-mounted sprayer, electric sprayer)

Cleaning machine, Humidifier, Water purification, Medical apparatus

Food beverage filling & liquid transfer

Any other pressurization system
FEATURES OF MINI WATER PUMP
Small size,Light weight and Stable performance.

Special valve for liquid input and output.

Antivibration pad,easy installation.

Self-priming,Automatic Pressure Switch.

Automatic Pressure Protection.

Low Noise,with excellent resistant to chemical corrosion.

12months warranty.

Automaticly turns on and off.

Comes with filters and fittings.
FUNCTIONS OF DIAPHRAGM WATER PUMP
High flow rate and low presurre requirements.

Automatic electric water pump,working rate 1.8-2.5meters,max flow rate more than 5 meters.

Water purification,filter machine,chemical metering and fluid supply.

Food,Beverage filling and transfer.

Controled by pressure switch.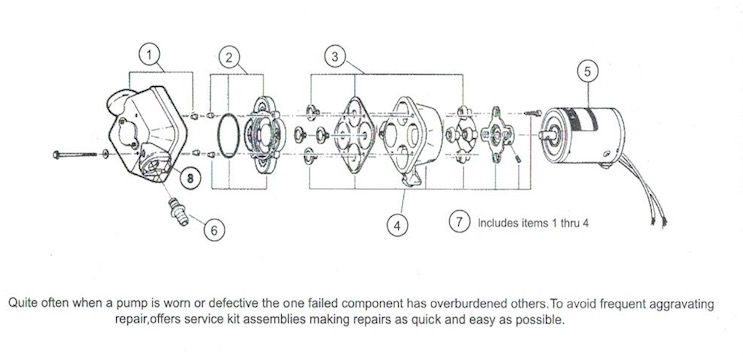 TROUBLESHOOTING
WARNING:BEFORE SERVICING PUMP,CLOSE SEA COCK,TURN OFF POWER AND DRalN WATER FROM HOSES!!
Failure to Prime-Motor operates, but no pump discharge
Restricted intake or discharge line

Air leak in intake line

Debris in pump

Punctured pump diaphragm(pump leaks)

Crack in pump housing
Motor fails to turn on
Blown fuse

Pum circuit has no power

Loose wiring connection

Defective motor
Low Flow and Pressure
Air leak at pump intake

Acuummulation of debris inside pump and plumbing

Wom pump bearing(excessive noise)

Punctured pump diaphragm(punop leaks)

Defective motor
Pulsating Flow
Restrocted pump delivery.Check discharge lines,fittings and valves for clogging or undersiszing.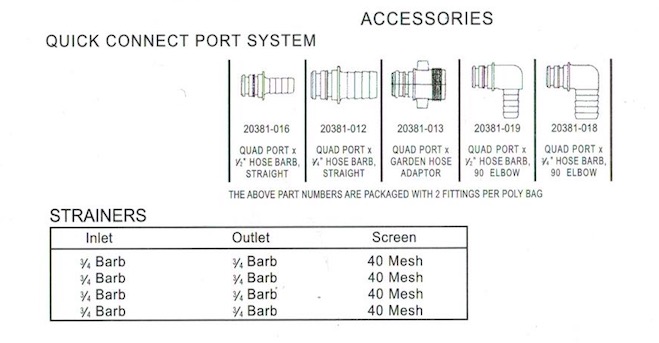 TECHNICAL DATA OF SMALL 12V DC WATER PUMP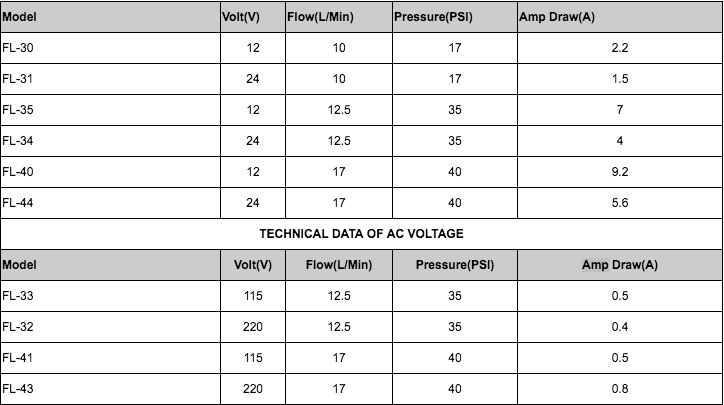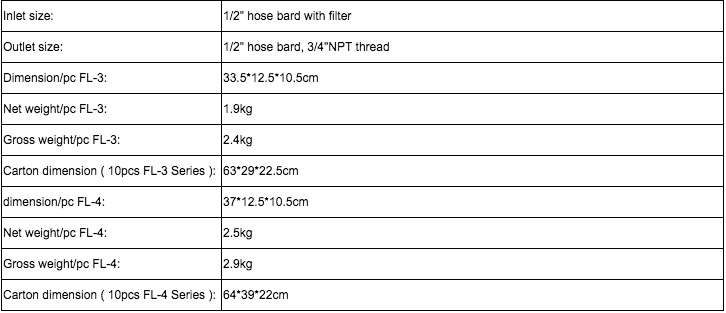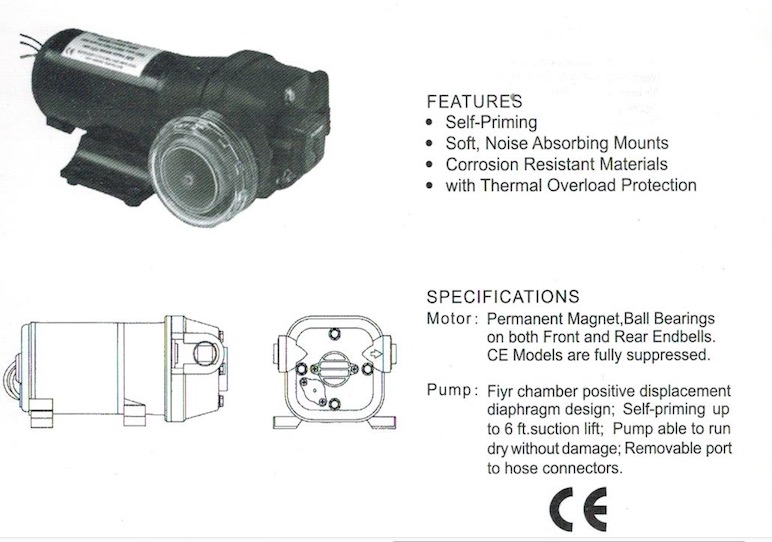 Sample order is very welcome to have a test, if need more technical specification, pls send email to us !